Root Canal Treatment
Melbourne
If you are experiencing prolonged sensitivity to temperature or aching teeth, Jacobson Dental Group can help. Our highly qualified dentists are able to perform a thorough assessment to determine if root canal treatment is required to ease these uncomfortable symptoms. If you are looking for superior root canal treatment in Melbourne, be sure to make an appointment with us today.
Root canal therapy is needed when the nerve of a tooth is affected by decay or infection.  In order to save the tooth, the pulp (the living tissue inside the tooth), nerves, bacteria, and any decay are removed and the resulting space is filled with special, medicated, dental materials, which restore the tooth to its full function. Having a root canal done on a tooth is the treatment of choice to save a tooth that otherwise would die and have to be removed.  Many patients believe that removing a tooth that has problems is the solution, but what is not realized is that extracting (pulling) a tooth will ultimately be more costly and cause significant problems for adjacent teeth.
Make an Appointment for Your Smile!
Why is root canal retreatment required?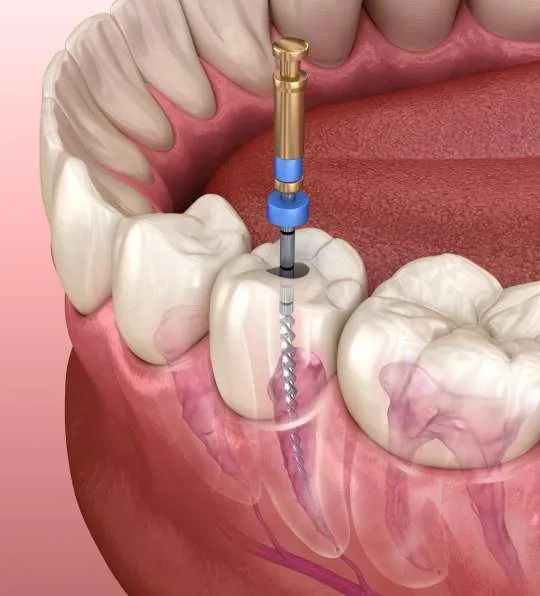 Though the prospect of more endodontic surgery might not be pleasant, root canal retreatment is fairly simple. In general, the whole treatment can be completed in 1-3 visits.
There are a number of reasons why root canal therapy unexpectedly fails, including:
What does root canal retreatment involve?
On the day of the retreatment procedure a local anesthetic will be administered, unless another type of anesthetic has been selected. The affected tooth is isolated with a rubber dam. The dam protects the tooth during treatment from bacteria and saliva. The amount the dentist can do within a single appointment will much depend on the amount of inflammation present, and the complexity of the treatment.
The first step in a root canal retreatment is to gain access to the inner tooth. If a crown and post have been placed, these will be removed.
Next, filling material and obstructions that block the root canals will be removed. This removal is conducted using an ultrasonic handpiece. The advantage of using this tool is that any unwanted material is vibrated loose. Tiny instruments will then be used to clean and reshape the root canals. X-rays may be taken to ensure that the roots are thoroughly clean. If this part of the treatment proves to be complex, medicated packing material will be applied, and the rest of the cleansing procedure will be done at the next visit.
When the dentist is confident that the root canals are completely clean, gutta-percha is used to pack the space. This rubbery material seals the canals to prevent bacterial invasion. Finally, a temporary crown or filling is applied to tooth. At a later date, the color-matched permanent crown will be placed.
If you have any questions or concerns about root canal retreatment, please ask your dentist.
Signs and symptoms for possible root canal therapy:
Reasons for root canal therapy:
What does root canal therapy involve?
A root canal procedure requires one or more appointments and can be performed by a dentist or endodontist (a root canal specialist).
While the tooth is numb, a rubber dam (a sheet of rubber) will be placed around the tooth to keep it dry and free of saliva.  An access opening is made on top of the tooth and a series of root canal files are placed into the opening, one at a time, removing the pulp, nerve tissue, and bacteria.  If tooth decay is present, it will also be removed with special dental instruments.
Once the tooth is thoroughly cleaned, it will be sealed with either a permanent filling or, if additional appointments are needed, a temporary filling will be placed.
At the next appointment, usually a week later, the roots and the inside cavity of the tooth will be filled and sealed with special dental materials.  A filling will be placed to cover the opening on top of the tooth.  In addition, all teeth that have root canal treatment should have a crown (cap) placed.  This will protect the tooth and prevent it from breaking, and restore it to its full function.
After treatment, your tooth may still be sensitive, but this will subside as the inflammation diminishes and the tooth has healed.
You will be given care instructions after each appointment.  Good oral hygiene practices and regular dental visits will aid in the life of your root canal treatment.
Make an Appointment for Your Smile!