Dental veneers are a popular cosmetic dental treatment used to improve the aesthetics of a smile and protect the tooth's surface from damage. They're an ideal solution for a range of dental issues including teeth that are chipped, misaligned, crooked uneven, discoloured or stained.
 Jacobson Dental Group provides both porcelain veneers and composite veneers in East Bentleigh, both of which have their advantages and disadvantages.
Pros and Cons of Composite Veneers
Composite veneers are added in layers to reconstruct the original damaged structure with composite material that resembles your natural tooth.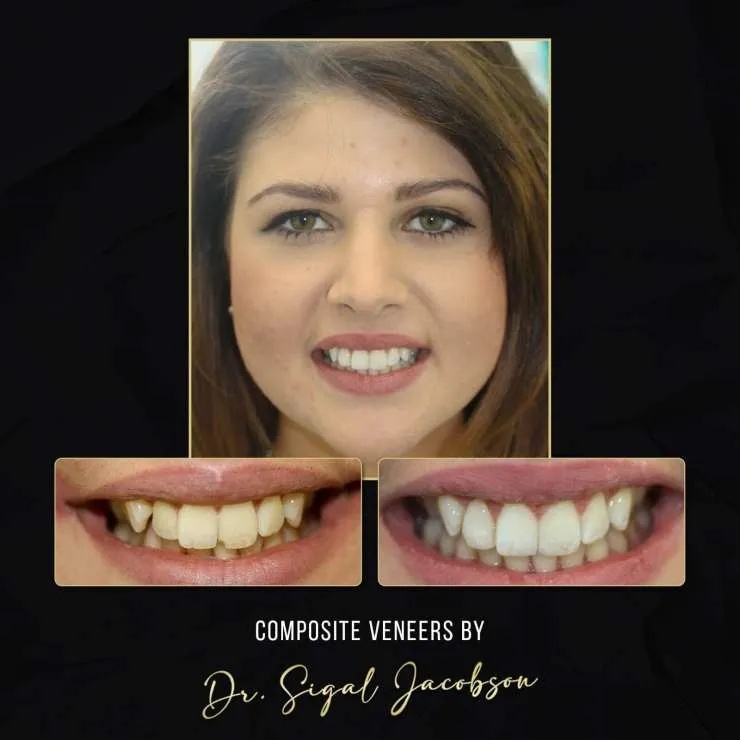 Placed in one visit: The Uveneer template system, invented by Melbourne dentist, Dr Sigal Jacobson, allows composite veneers to be placed in a simpler and faster process.
More affordable option: Due to less chair time and no lab fees, composite veneers are the more affordable option compared to porcelain veneers. Composite veneers can cost between $500 – $1000 per tooth. Composite veneers can be placed on a single tooth, matched to your natural teeth, unlike porcelain veneers that will require a full set. This also saves you money on treatment.
Stunning, predictable results: Uveneer allows for more predictable results, rather than relying on the dentist's artistic ability. Each layer of composite resin is reshaped by your dentist until the desired result is achieved.
Can anticipate results: Uveneer also allows for you to test out how you like your new teeth shape before committing to the treatment.
Easily repaired: Unlike porcelain veneers, composite veneers can be easily repaired without the need for a full replacement.
Minimally-invasive: This process requires no injections, removal or drilling of the healthy tooth structure.
Can stain like natural teeth: One con of composite veneers is that they are not stain resistant. However, the new advanced composite resin tends to show less staining.
Requires yearly maintenance: Another con of composite
Pros and Cons of Porcelain Veneers
Porcelain veneers are thin, custom-made shells that are applied to the front surface of your teeth. The process involves removing a thin layer from your tooth enamel, making a mould, and sending it to a lab.
Stain-resistant: One major pro of porcelain veneers is that they will not stain or show any surface changes, meaning you'll have pearly whites for life!
Stunning, long-lasting results: Porcelain veneers can completely reshape your teeth and achieve amazing smiles that generally last more than 10 years, when well-cared-for.
Cannot be repaired: However, if you do chip a porcelain veneer, the process is a bit more complicated than composite veneers. Porcelain veneers cannot be repaired and will require a full replacement.
Expensive treatment: A con of porcelain veneers is the cost of treatment. Porcelain veneers can cost between $1500 – $2000 per tooth and will require a full set so that every tooth matches.
Requires at least two appointments: Since the process involves taking from the tooth enamel and sending a mould to a lab, you will require at least two visits to the dentist. While the lab prepares your porcelain veneers, you'll be given a temporary set of veneers for a week or two.
For more information about our porcelain and composite veneers in East Bentleigh, Melbourne, book with a Top Cosmetic Dentist in East Bentleigh. We provide flexible, interest-free payment plans for your convenience. Call (03) 8525 3875 or contact us online.